Companies to face I-9 scrutiny as feds crack down on child labor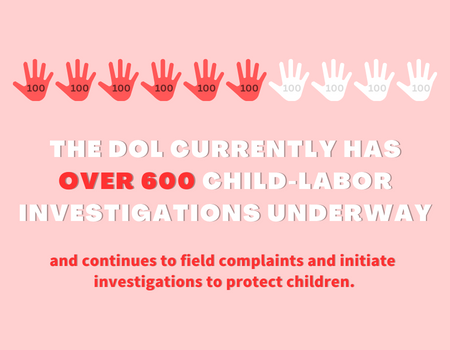 In response to a dramatic spike in child-labor violations, the Biden administration has launched a wide-ranging push to compel employers to obey the law. Among the initiatives: a Department of Labor-led interagency task force to combat child-labor exploitation and a nationwide strategic enforcement plan. However, this effort won't just impact companies engaged in illegal practices.
Since 2018, the U.S. Department of Labor has seen a 69% increase in children being employed illegally. In fiscal year 2022, the DOL found that 835 companies it investigated employed more than 3,800 children in violation of labor laws. The maximum civil monetary penalty under current law for a child-labor violation is $15,138 per child.
"That's not high enough to be a deterrent for major profitable companies," a DOL statement said.
Read the DOL's announcement of the child-labor initiative here.
A grisly example
On Feb. 17, the Labor Department settled one of the largest child-labor cases in its history against a Wisconsin company that provides laborers to clean meat-packing plants.

Packers Sanitation Services, one of the nation's largest such firms, has paid $1.5 million in penalties after the DOL's Wage and Hour Division found the company employed at least 102 children—from 13 to 17 years old—in hazardous occupations and had them working overnight shifts at 13 meat-processing facilities in eight states.
Under the Fair Labor Standards Act, the department assessed the maximum $15,138 for each minor-aged employee who was employed in violation of the law.
The children were working with hazardous chemicals and cleaning meat-processing equipment, including back saws, brisket saws, and "head splitters," which do exactly what one might imagine they do in a slaughterhouse.
Hundreds of investigations
The DOL currently has over 600 child-labor investigations underway and continues to field complaints and initiate investigations to protect children.
Employers can expect greater scrutiny from a variety of federal departments.
The interagency task force will coordinate enforcement efforts and information sharing between the DOL, the Department of Health and Human Services, and U.S. Citizenship and Immigration Services. A national strategic enforcement initiative on child labor will find the Wage and Hour Division using "data-driven, worker-focused strategies" to initiate investigations where child-labor violations are most likely to occur.
The I-9 connection
The involvement of USCIS has significant implications for employers.
Reason: There is substantial evidence that many children working in dangerous conditions got their jobs on the basis of fraudulent I-9 documentation submitted on their behalf. Form I-9 is used to verify the identity of all new hires and their eligibility to work in the U.S.
According to a recent New York Times exposé, it is common for an adult to interview for a job and submit I-9 documentation, only for a different, obviously younger person to show up for work.
Result: Expect DOL, HHS, and USCIS to increase I-9 document scrutiny.
What employers should do
Now is the time to review your I-9 process. Start by brushing up on the requirements, including what documents may be accepted for I-9 purposes. Examples of acceptable documents can be viewed here.
As you review the identity documents new hires present, ask yourself these questions:
Do the documents look authentic? For example, does a birth certificate include a state or county seal? For I-9 purposes, a birth certificate must be an original or certified copy issued by a state, county, municipal authority, or outlying possession of the U.S., with an official seal.
Does the individual presenting the document look old enough to match the birth date listed?