How to manage FMLA leave for employees with migraines
Can employees take FMLA for migraines? Of course they can.
Taking FMLA leave for migraines and chronic headaches is completely acceptable, but it may be a bit more complicated than a more straightforward reason like childbirth. Migraines are a problem that is not only harder to prove but also typically require employees to take their leave intermittently. This means that employees could potentially leave their jobs right at the moment their head starts throbbing.
In this BusinessManagementDaily.com article we cover all the facts about FMLA for migraines, including:
How to manage employees who take FMLA leave for migraines.
How intermittent FMLA leave factors in.
Ways to avoid intermittent FMLA abuse.
What is FMLA?
The Family And Medical Leave Act is a labor law that provides 12 weeks of unpaid leave for workers who need medical leave or have disabilities. Additionally, FMLA provides leave employees can take to care for family members who have a serious health condition. FMLA leave can be used for reasons like migraines, childbirth, adoption, foster care, mental illness, military family leave, etc., and it can even be used for up to 26 weeks of unpaid leave to care for a disabled service mem
How to manage FMLA Leave for migraines
The best way to smoothly go through the FMLA is by documenting everything and communicating clearly. Be sure to record every bit of information when it comes to documentation and even conversations about FMLA leave to prevent disputes and keep things transparent. FMLA for migraines generally follows the same process as normal FMLA leave, however, there may be some additional considerations. First, let's take a look at the normal process.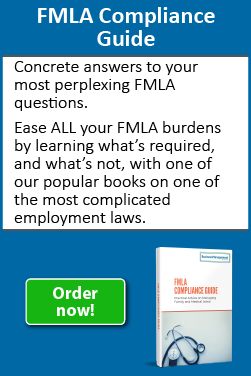 Employee requests leave
The employee should request their leave at least 30 days in advance. Sure, an employee could get away with less than 30 calendar days notification, but they just need to keep in mind that the process for FMLA coverage takes time.
Notice of eligibility
After leave is requested, you're obligated to fill out a notice of eligibility and return it to the employee after five business days. The notice of eligibility informs the employee whether or not they are eligible for medical leave.
Medical certification
In most cases, you'll want to request that the employee present a medical certification form that provides medical facts supporting their case as proof that they really have a qualifying medical condition. You also have the right to request second and third opinions from different medical professionals (at your expense) to verify the validity of the leave.
The employee is notified whether or not their leave is approved
The employer has five business days from the time they receive medical certification to inform the employee whether or not they are approved for leave under the FMLA.
The employee's leave is protected
Now the employee can confidently take their leave with the knowledge that they're protected by FMLA. The employee does have to hold up their end of the bargain when it comes to cooperating with management guidelines, etc. to keep a good standing. We should also note that employees can lose their FMLA rights if they take more leave than necessary.
The employee returns to work under the same position
After the employee has taken leave, they're permitted to return either the same or a similar position.
Intermittent FMLA for migraines
Unfortunately, because migraines are often a recurring issue they don't often fall neatly under normal FMLA procedures. That makes it perfect for intermittent FMLA leave. Although intermittent FMLA leave can be a pain in the neck for employers to deal with because leave is intermittent and hard to predict, employees are still protected under the FMLA. Migraines can be a severe incapacity, cause physical pain, and may reduce vision. Many of these symptoms fall in line with serious health conditions under the FMLA.
Chronic migraines can inhibit essential functions, so even though it is a hard issue to tackle in the workplace, it is still an important factor in protecting the rights of employees who actually do suffer from migraines. Intermittent FMLA leave typically needs to be approved in advance, however, after approval, intermittent FMLA leave can be taken as needed with proper arrangements. See more on the process for taking intermittent FMLA leave.
Additional considerations for managing FMLA for employees with migraines
Preventing FMLA abuse
Migraine headaches and chronic migraines are a medical condition that is hard for a doctor to verify. Here are some effective ways of keeping tabs on your employee while they take their medical leave and prevent them from abusing the privilege.
Recertification
One way employers can properly manage FMLA leave for employees with headaches is by requiring the employee to be re-certified every 12 month period from a healthcare provider. This will ensure that the condition is a continued problem and not simply being abused by the employee.
Keeping track of time
Employers should accurately keep track of the time off taken by the employee and keep it on record.
Random check-ins
Randomly checking in with employees is a good way to keep them honest when taking their leave. Employees should be disciplined if they aren't at the doctor when they're supposed to be or aren't staying home to recover when they're supposed to be taking FMLA leave.
Preventing discrimination in the workplace
The right for some employees to leave work conveniently and by their own call inevitably creates problems in the workplace. Think about it; right when times get hard may be the exact moment when the employee comes down with a migraine a severe migraine. It's not an ideal situation when other employees and management have to deal with the sudden absence of a coworker suffering from a migraine.
However, employees are permitted to take this protected leave as long as it's not being abused. Employers must ensure that employees taking leave do not face discrimination or retalliation.
Legal advice?
In most cases, employers with migraine sufferers won't need to consult a lawyer to successfully process FMLA leave. However, it is always a good idea to record and document everything that happens in a process like FMLA just in case. That is especially true if you fear that leave may be abused.
Americans with Disabilities Act
The Americans With Disabilities Act (ADA) is a civil rights employment law that protects Americans who have disabilities. Employees suffering from Migraines may be protected under the ADA as well. In this case, periodic leave for migraines may be considered a reasonable accommodation under the ADA.
Additional resource: Read more about FMLA requirements and what they mean for your business.