After career ups and downs, Ironton officer is still fired
Beth Rist's story with the city of Ironton goes back years. She was the Ironton Police Department's first female officer when she was hired in 1996. In 2001, she sued the department, alleging sexual harassment. She won that lawsuit.
But Rist's string of success appeared to stop at that point. After she was cited for filing a false police report, the Ironton Police Department fired her. She lodged a grievance with her union, claiming her firing was in retaliation for her previous suit against the city.
While her union grievance was being processed, she pleaded guilty to yet another misdemeanor charge of filing a false police statement.
Then things began to look up for Rist. She was elected to the Ironton City Council. An arbiter ruled her firing was without merit.
But the department appealed the arbiter's decision to a state appeals court, which reinstated her firing. The department successfully argued that Rist's admitted false police report cast doubt on anything she might have to say about her first alleged offense.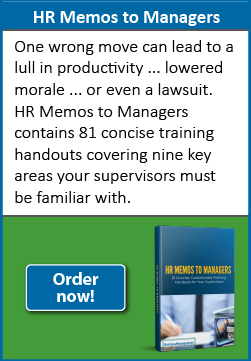 Note: Employers that document legitimate reasons for terminating employees stand a good chance of winning challenges, especially if the proceedings happen in a court. Arbitration hearings can be crapshoots because arbiters don't have to follow rules of evidence.
In court, however, employees must present evidence of discrimination, and then employers are entitled to show a termination occurred for a nondiscriminatory reason. And good employer documentation often wins those kinds of cases.