The legal and financial risks of mishandling employee expense reimbursements have spiked in recent years. And the IRS is in the middle of a three-year audit crackdown on employment-tax issues.

Would your books survive an IRS spot-check? Do you know which reimbursements for employee expenses should be treated as expenses … and which as compensation?
If handled incorrectly, employee expense reimbursements can be disallowed as expenses, meaning they'd be considered compensation to employees. The result: an unhappy employee—and your company would be on the hook for the related payroll taxes and penalties.
You need to get it right every time. In our popular webinar, Employee Expense Reimbursements: Compliance Workshop, learn the most up-to-date rules and requirements for expense reimbursements. Plus, get an expert's advice on the best practice for reporting and processing them.

Join us Feb. 7 for answers to questions like:
Which employee reimbursements should be treated as expenses and which as compensation?
Which payments made to employees are subject to payroll tax?
What are the most common reimbursement mistakes made by employers?
Should you run expense reimbursements through payroll or accounts payable?
When are per diems and advanced accounting used—and how do you account for them?
What are the rules for accountable plans, and how do they apply to employee expense and travel reimbursements?
Plus, this interactive webinar allows you to have your question about reimbursements answered by a true expert: Mindy Harada, a director with PricewaterhouseCooper's Employment Tax practice.

Bottom line: Spot the holes in your expense-reimbursement compliance before the IRS does. Get educated now on the new rules of employee expense reimbursements!
Sincerely,


Pat DiDomenico
Editorial Director, Business Management Daily
P.S. Early-Bird Bonus. The first 50 people who sign up for this webinar will receive 76 Ways to Maximize Expense Account Deductions. This popular Special Report shows you where to draw the line with travel and entertainment deductions, and how to substantiate each expense. Plus, you'll receive five Instant Executive Briefings on today's most important compensation and benefit issues. Both of these downloads are yours free—IF you register today!

P.P.S. Your satisfaction is unconditionally guaranteed. If Employee Expense Reimbursements: Compliance Workshop fails to meet your needs in any way, we will refund 100% of your tuition—no hassles, no questions asked. Your conference materials and Early-Bird Registration Bonuses are yours to keep.
Date: Thursday, Feb. 7
Time: 1 to 2:15 p.m. ET
Early Registration Bonus:
The first 50 people who register will receive a free copy of 76 Ways to Maximize Expense Account Deductions. This freshly updated 25-page Special Report will show you where to draw the line with travel and entertainment deductions, including meals, lodging, vehicles and gifts. Reap the biggest deductions with the lowest chance of an IRS audit. Plus, learn how to substantiate those costs correctly.

Second free bonus gift: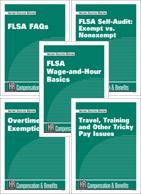 In addition, you'll receive our popular Instant Executive Briefings on five of today's most important compensation and benefits topics:


Travel, Training and Other Tricky Pay Issues

Overtime Exemptions

FLSA Wage-and-Hour Basics

FLSA FAQs

FLSA Self-Audit: Exempt vs. Nonexempt
This mini-library even includes an FLSA self-audit so you can make sure you're in compliance—so you'll never have to set foot in court.
About Your Speaker:
Mindy Harada is an employment tax specialist with more than 20 years of experience as an independent consultant, an employee of two of the Big Four accounting firms, and a payroll tax auditor with the state of California. Mindy is currently a director with PricewaterhouseCoopers' Employment Tax practice. She is a frequent presenter around the country on employment tax and compensation issues.
Who Should Attend:
Accounting department
HR professionals
Comp & benefit specialists
Supervisors and managers
Executives
Office managers
Business owners
Since this is a webinar, you and your entire staff can attend in the comfort of your office or conference room for one low price! You may include as many people as you wish while listening on a single phone line.
Pricing Options:
Unlimited number of participants at one site. Contact us for multi-site discounts.
Webinar: $197
CD & Video Recording(mp4): $197
Webinar, CD & Video Recording(mp4): $297
Can't attend the webinar? We'll reserve a CD & Video Recording in your name.
Access Every Business Management Daily webinar for one low price!
Credit Hours:
This event has been approved for 1.25 credit hours toward PHR and SPHR recertification through the Human Resource Certification Institute (HRCI).
"The use of this seal is not an endorsement by HR Certification Institute of the quality of the program. It means that this program has met HR Certification Institute's criteria to be pre-approved for recertification credit."