Are your accomplishments getting the acknowledgment they deserve? Are you winning influence and admiration around the office? Are you getting everything from your job that you could be?
Our web-exclusive
Results, Recognition & Rewards
is the perfect guide for admins who want to get unstuck. Our tips and advice will give you a whole new attitude so you can start enjoying yourself again. You'll find out how to take control of your career … strengthen your work relationships … and make your boss shine – so you'll shine, too!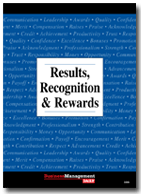 You'll instantly:
Avoid the top 10 career-killing mistakes too many admins make
Use psychological momentum to turn your boss's "no" into a "sure, why not?"
Play the right kind of office politics – the kind that win you admiration and influence
Become indispensable as the "office problem-solver"
Get difficult co-workers in line with your program
Banish timidity forever as you confidently negotiate raises and promotions
Results, Recognition & Rewards
also contains a three-step plan to help you get started now. In no time, you'll have the job you want, not the one you suffer through every day.
Available only through download from our web site,
Results, Recognition & Rewards
is divided into three sections that focus on areas of your job where you can easily get ahead. First, we'll help you identify what type of boss you have, what makes him tick and how to direct him toward greater productivity (while earning
you
his undying gratitude). Then you'll learn how to improve your work relationships so you can do your job more effectively. Finally, we'll show you how to get those rewards and recognition you've been working for.
Table of ContentsPart I: Forging a Winning Relationship With Your Boss
1. Sizing Up Your Boss
2. Synchronizing Your Work Style With Your Boss's
3. Realizing Your Potential
4. Selling Your Ideas to Your Boss
5. Becoming a Problem-Solver for Your Boss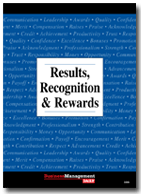 6. Managing a Difficult Boss
Part II: Strengthening Your Work Relationships
7. Rubbing Shoulders at the Top
8. Cooperating With Other Departments
9. Playing Positive Office Politics
10. Negotiating for What You Need
11. Getting Along with Problem Colleagues
Part III: Taking Control of Your Career
12. Promoting Yourself and Your Achievements
13. Negotiating a Raise
14. Coming Back After a Mistake
15. Taking Stock of Yourself
16. Planning Your Career
Everyone wants to be recognized for a job well done. Now you'll get
results
for your work and the goals you've achieved …
recognition
for the invaluable contributions you make … and
rewards
in the form of raises, opportunities and advancement. Why wait another minute when you could already be getting what you've earned? Order
Results, Recognition & Rewards
now!
Sincerely,
Mary Ellen Slayter
Editor,
Administrative Professional Today