ICE ramps up compliance raids on employer facilities
Immigration battles aren't being fought only at the border. Immigration and Customs Enforcement is making good on promises to step up surprise raids and inspections of worksites suspected of harboring workers who lack authorization to work in the U.S.
In what ICE called its largest raid in recent history, federal agents on June 19 executed a warrant to search the Salem, Ohio, plant of Fresh Mark, a large meat processing company. The raid followed a year-long investigation that triggered suspicions the company knowingly hired ineligible workers.
ICE arrested 146 undocumented employees, who now face deportation proceedings. The warrant allowed ICE to collect evidence, which it will use to determine whether the company's owners knowingly employed the workers.
No word yet on what penalties await Fresh Mark.
An ICE statement said unlawful employment of undocumented workers "is one of the key magnets drawing illegal aliens across our borders." It said ICE would hold employers accountable if they knowingly hire undocumented workers or allow them to remain employed after discovering they don't have appropriate permission to live and work in the U.S.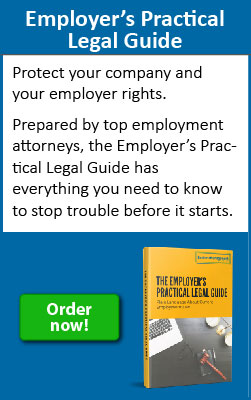 Advice: It bears repeating: Audit your I-9 processes immediately!
As soon as ICE investigators arrive at a worksite, they will ask to see I-9 documentation showing that all employees are eligible to work in the U.S. If you don't have your I-9s in order, you're already in trouble.
Have doubts that you are in I-9 compliance? Call your attorney right away.
Online resource Download our free publication "I-9 Forms: A Guide to Employment Verification."