8 tips for reviews that help employees & you
A good performance review process benefits employees and employers alike. For employees, evaluations help define how and in what areas performance can improve. They provide a detailed understanding of what the employer expects.
Employers have as much, if not more, to gain from providing accurate evaluations than the workers they evaluate. A legitimate evaluation process:
Creates a paper trail that allows the company to make good employment decisions
Enables informed comparisons between managers' expectations and employees' actual performance
Allows ready comparisons of one employee to another
Documents performance problems for the record.
That last bullet is critical. Many a lawsuit has been derailed by a review showing that an employee was disciplined or terminated because of poor performance, not discrimination or retaliation.
Increase the value of your em­­ployee evaluation process by following these eight tips.
Evaluation process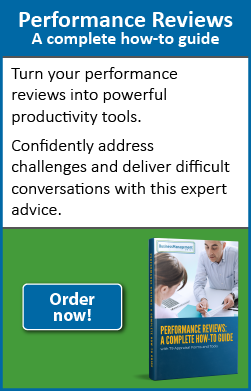 1. Review the job descriptions for those about to be evaluated. Make sure they are being judged on relevant criteria.
2. Conduct the review in person with each employee. Give the employee an opportunity to respond. Listen closely for any claims of discrimination or harassment. Get the employee to sign off on receipt of the evaluation.
3. Document the discussion with the employee separately, and follow up immediately with HR on any serious employment issues.
Evaluation content
4. Focus on job-related criteria.
5. Compare with companywide expectations of performance.
6. Be detailed and specific.
7. Be honest.
8. Remember, the goal of an evaluation is to improve performance, not justify termination.
Final note: Most attorneys agree that it is better to have no evaluation at all than to have an evaluation that does not match up with actual performance.