Noncitizens can't sue for overseas discrimination
In most cases, an employee who works for an American company can sue that company even when he or she works overseas. But you should be aware of important limitations, including those that cover noncitizen employees.
Generally, employees who work for your organization within the territorial limits of the United States can sue under Title VII of the Civil Rights Act and the Age Discrimination in Employment Act. This is true even if the employee isn't a U.S. citizen or even a legal resident.
However, when it comes to working for American companies overseas, only U.S. citizens can sue for alleged discrimination. Illegal or legal immigrants and foreign employees working overseas for American companies don't have the same rights.
Recent case: John Ofari-Tenkorang, a black male, worked for AIG, first in the United States and then at AIG's office in South Africa.
Ofari-Tenkorang is a legal U.S. resident with a green card, and his permanent residence is in Connecticut. He complained that once he was transferred to South Africa, he was subjected to racism and race discrimination at work.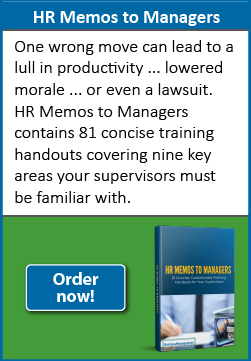 Because only U.S. citizens can sue under Title VII when they're working abroad, Ofari-Tenkorang sued under a separate, related provision, Section 1981. It bans discrimination in the making of contracts. The contract, employees claim, is their agreement to work for a company.
Section 1981 applies to "persons within the jurisdiction of the United States" and Ofari-Tenkorang said that applied to him.
But the 2nd Circuit Appeals Court dismissed his case, ruling that Section 1981 applied only to discrimination within the United States, not to discrimination by American companies in foreign lands. (Ofari-Tenkorang v. AIG, No. 05-5272, 2nd Cir., 2006)
Online resource: For more information on who can file a discrimination claim (and how it can be filed) go to www.eeoc.gov and click on "Filing a Charge of Discrimination."
Immigration status and bias law: Who can sue?
All people, regardless of their immigration status or citizenship, can sue employers under Title VII, the ADA, the ADEA and Section 1981 of the Civil Rights Act if they work within the United States or its territories. Illegal immigrants are limited in the damages they can collect. (That means they can't win their jobs back, but they can earn back pay and damages.)
Only U.S. citizens (not permanent residents or foreign citizens) can sue American companies when they work overseas and allege that their employer violated Title VII, the ADA or the ADEA.
No one, regardless of citizenship, can sue their employer under Section 1981 of the Civil Rights Act for acts the company allegedly committed while the employee worked overseas.