You may know how to survive in today's fast-paced admin world ... but do you know how to thrive?
Years ago, your job probably had just a fraction of the responsibilities you have today. Now, you face challenges and annoyances unlike anything you've dealt with before.
Table of ContentsIntroduction1. Become Your Boss's Best Ally
How can I ease the transition to a new boss?
How can I build a relationship with a reserved boss?
How can I work effectively with a boss who's almost never in the office?
How can I tactfully organize my boss?
How can I capture my boss's undivided attention?
How can I receive more recognition from my boss?
2. Advance Your Career
How should I ask for the raise I deserve?
Should I join a professional organization?
How can I grow as an admin without becoming a manager?
3. Achieve Maximum Results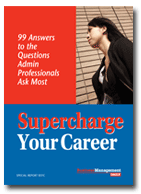 How can I ensure no assignments slip through the cracks?
Timesaving tips, anyone?
How can I schedule meetings for scattered board members?
How can I keep filed documents from disappearing?
What's the easiest way to route magazines through the office?
How can I stop co-workers from calling out to me from their work areas?
How can I ensure we don't run out of toner?
How do you prepare the office for your vacation?
Any tips on how to prepare for office relocation?
How can I track travelers' preferences?
4. Tap Technology to Lighten Your Load
How can I better manage high-volume e-mail for executives?
How can I keep track of multiple versions of a document?
How can I efficiently track everyone's schedules?
How can I resign as the unofficial computer expert?
5. Work Well With Everyone
How can I politely remain private?
How can I handle a nosy co-worker?
How should I handle another executive's questions about my boss's activities?
How can I stop a co-worker from interfering in my conversations?
Have a particularly difficult question or sticky situation you need help with? No problem! We'll give you the address of an exclusive web site designed specifically for you. You can post your concern and have it addressed by administrative pros across North America.
It's time to stop struggling with your admin challenges and start building the career of your dreams. You deserve to get more satisfaction from your work, to keep and maintain great working relationships and to be recognized for the great job that you do. With
Supercharge Your Career
, you'll have your own personal coach to guide you through every rough spot in your career.
Get your copy now!
Sincerely,
Alice Bumgarner
Editor,
Administrative Professional Today